Our PGA professional team, provides a first-class teaching service, offering playing lessons on the course or one on one and group lessons (using different types of teaching methods). You can take advantage of our excellent practice facilities with both our qualified teaching professionals who aim to help you improve all aspects of your golf and get more enjoyment from the game you love.
Why Coaching?
We're passionate about helping you play better golf.
Every golfer enjoys the game much more when they're playing well, and we are here to help you do just that.
Think back to your last few rounds and try to pinpoint an area that cost you shots…
Maybe, you had too many three-putts as a result of poor distance control? Or did you miss too many fairways to the right meaning you had to chip out sideways? It could be that you play well in practice rounds with your friends but struggle to replicate that in competitions?
Through their personal experiences in the game and the education of our professional team, Jak Lee, one of the brightest fully qualified PGA Professionals in the area and Oliver Whittaker, Mental Performance Mind Factor Accreditation, we aim to tailor our lessons to suit you and your needs. We understand that every golfer is different and that's why we offer a wide range of lessons and packages to suit everyone.
Get in touch today and let our friendly professional team help you improve your game.
Lessons will cover:
Golf Fundamentals
Swing Basics
Short Game
Long Game
Course Management
Mental Game
Performance Coaching
Colour Path Golf Swing Coaching
Oliver Whittaker - Staff - Mind coach
Oliver joins us for his first full time role in the golf industry after becoming a mind factor accredited performance coach, Oliver is looking to turn professional over the coming seasons and continue to improve his own game as well as his clients, he is from a successful golfing family including his mum Penny Grice-Whittaker who had 4 wins on the ladies tour including 1 major. As a passionate golfer who has took his handicap from 9 to scratch in just 3 years he is looking forward to sharing his knowledge to help you improve your game and enjoy your golf more than ever before.
---
Ashley Lerigo - PGA Club Professional
Ashley Has joined us from nearby Rotherham Golf club where he spent 5 1/2 years working as assistant. This is his 1st role as a Head Professional he has over 16 years experience in the industry and is looking forward to working at Hickleton golf club. Our resident PGA qualified golf professional, provides a first class teaching service, offering playing lessons on the course or one on one and group lessons (using different types of teaching aids including video lessons). You can take advantage of our excellent practise facilities, including areas for woods, long irons, bunkers, short game and putting.
---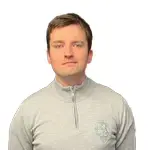 Jak Lee - Head Teaching Professional
Jak first joined Hickleton as a 13-year-old junior in 2008, having a successful junior amateur career before turning pro age 19 in 2015. He then spent the next 3 years studying to become a fully qualified PGA Professional, achieving that accolade in 2018, before leaving for Kingswood to further his coaching career in the autumn of 2019. Jak now teaches players of all ages and standards from beginners to professionals. With teaching experience of over 5 years, Jak can offer individual, group and course lessons. All coaching is with Hudl Technique video analysis and GC Quad ball flight analysis where necessary. Jak is regarded as one of the region's top young professionals, having grown his online presence in the past 3 years, mainly on YouTube, amassing almost 3000 subscribers and 500,000+ views. Jak combines his knowledge of the golf swing and the information provided from the technology at hand, with his personable approach to ensure that golfers improve their game quickly and simply.
---
Sarah Branton
---